THE FILMING...
AFTER CREATING THE SHORT FILM WE AGREED TO WORK TOGETHER ON A FILM HE TENTATIVELY CALLED :UNCLE MEAT". I would do all the shooting and he would supply all the on camera talent and music.
This adventure took me to many more nights at the Garrick Theater; in his apartment on Charles Street shooting baby MOON UNIT and barefoot "hippie" wife GAIL; the making of the album cover for "WE'RE ONLY IN IT FOR THE MONEY"; to ALBERT HALL in LONDON; and finally to the CONCERTGEBOW HALL in AMSTERDAM.
Since Frank saw no end to the fiming and I had to get back to my TV commercial business in New York, we split up.
I eventually sold the footage to ZAPPA and Frank graciously allowed me to keep non commercial and film Festival rights to several of the short films I created from the 14 hours of footage.
This press release in an underground newspaper tells what Frank's original plan was.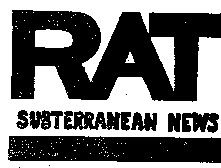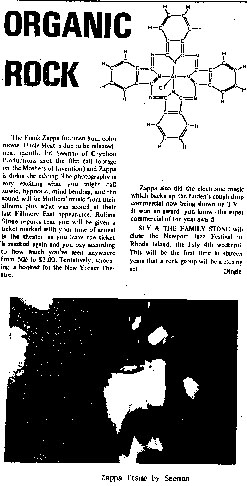 I write here what cannot be legible on this web site.
""This Frank Zappa 14 Hour color movie ""Uncle Meat"" is due to be released next month. Ed Seeman of Gryphon Productions shot the film (all footage of the Mothers of Invention) and Zappa is doing the editing. The photography is very exciting ... what you might call Zowie, Hypnotic, Mind-Bending and the sound will be Mother's music from their albums plus what was scored at their last Fillmore East appearance. Rolling Stone reports that you will be given a ticket marked with your time of arrival in the theater and as you leave, the ticket is marked again and you pay according to how much you've seen, anywhere from $ .50 to $ 3.00. Tentatively, screening is booked for the New Yorker Theatre.""

HERE ARE PUBLISHED REFERENCES TO OUR PROJECT
PLUS AN OPPORTUNITY TO PURCHASE MY 40 MINUTE VERSION.
CLICK BELOW